"CONNECT" with Dental Patients & Prospects to Rise Above Your Competition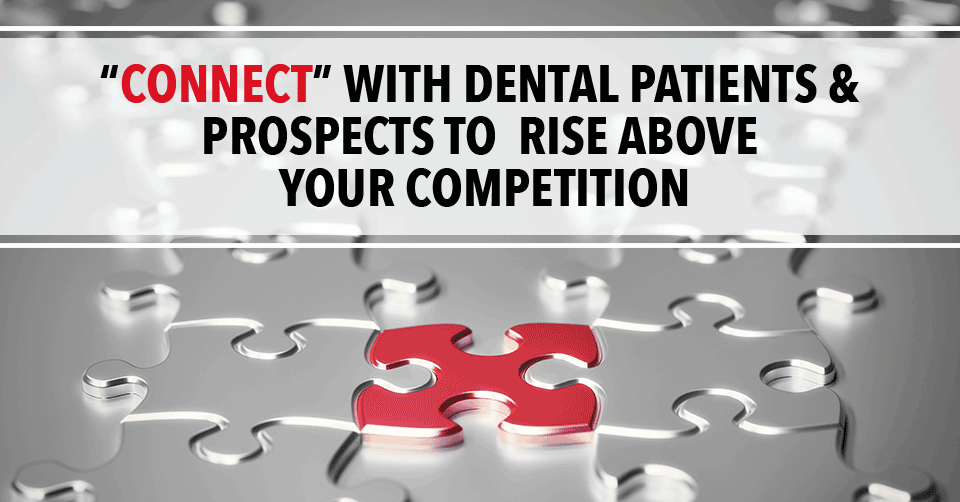 The "C" in "ACE" of Marketing Success Pillar One
Hi, I'm Dan Mount (President of The Practice Marketers), and I'm really excited about what I'm sharing with you today.
If you've been following this series of blogs, you'll know that after analyzing, testing and retesting Dental Marketing methods for about two decades, we've gathered our most powerful marketing principles into THREE PILLARS of success for your practice's marketing – and I'm in the process of revealing what I know is working for Dentists like you across North America right now.
This Dental Marketing System is called "TRIPLE ACE DENTAL MARKETING" because the acronym "ACE" is built into each of these Pillars – which come together to serve as a foundation for your Dental office's patient attraction and retention.
As I mentioned in my last article, PILLAR ONE is:
Attract… a steady stream of new patients to your Dental Office
Connect…with patients/prospects by using promo gifts in your Direct Mail marketing that set you apart from your competition
Evaluate…all your marketing campaigns by tracking them to make sure they work
Last time, we focused on the "Attract" element in the "ACE" of Pillar One. Today, I want to get into the best way to "Connect" with patients and prospects in order to rise above your competition:
con·nect​
kəˈnekt / verb
1. bring together or into contact so that a real or notional link is established
2. join together so as to provide access and communication
"Connect" is grouped into the same Pillar as "Attract," because these two walk hand-in-hand to put a serious spring in the step of your practice's marketing
When we discussed "Attract," I told you the story about my good client Dr. Goldberg, who was a little timid to "stand out" with his practice's marketing; yet when I convinced him to do something "splashier" than the norm with his Direct Mail, he got some pretty awesome results… 98 unique calls, and 57 new patient appointments to be exact.
In the last blog I also shared some statistics with you, which demonstrate how Direct Mail can add a solid boost to your new patient attraction. (Since I'm a Direct Mail expert, I decided to let the numbers do the talking, lest you think I'm being biased!)
Now, I want to take things a little further. I think you'd be interested in a story about the benefits of "bulking up" your Direct Mail with promo gifts to intensify your connection with prospects/patients… setting you firmly apart from your local competition.
Clayburn Dental is a large family practice that combines a promotional fridge magnet with many of their Mailers to generate an impressive response! I was gathering some stats for a case study that my staff is building, so I gave Stephen Wall (the Director of Marketing at Clayburn) a buzz awhile back.
Six years ago, Stephen requested our completely Done-for-You Direct Mail Marketing system that deploys 25,000 mailers every month to the households in and surrounding his practice (that's 300,000 pieces a year).
In other words, the mailers for Clayburn Dental hit the streets 12x a year – and most importantly, we put customized promotional magnets into those mailers 3x a year.
I asked him how things are going, and he said, "Fridge magnets are truly the gifts that keep on giving." Stephen reported that they're getting up to triple the response from their Direct Mail cards that have magnets attached – or even better.
This is the stuff I LOVE to hear from my clients! And Stephen loves it too. He was pretty pleased to tell me that Clayburn Dental is going to grow another 50% this year – because as soon as a mailing hits the streets (especially when there's a magnet included) the phones start ringing.
As you can imagine, I couldn't wait to bring his report to my team.
But the question is, why are magnets so consistently effective??
Well, a tactile experience is a valuable thing. When mail has a unique shape, a bulky feeling, or a texture, that's a one-way ticket away from the trash.
Promotional fridge magnets should be designed to be put front and centre in the households surrounding your Dental practice. They'll hold pictures of the kids, or their drawings, on the fridge – and can earn you some prime real estate in the hub of the family home, making a huge CONNECTION with your target households – and helping them forget about your competition, since you're the only practice whose branding is in front of their face every day.
The most impressive statistic about fridge magnets is that households will keep a promotional branded fridge magnet for up to eight years! So you can also benefit from a long-term residual response. Our clients hear from potential patients who've had Dental magnets on their fridge for three years or more – and eventually those prospects call when they have a need.
In our experience, incorporating a custom promo fridge magnet with your mail-outs will generate pretty huge results; and our top clients agree, that for growing your practice and getting new patients, including a promo gift into your Direct Mail marketing is one of the best marketing investments you can make.
In Stephen's words: "It's the one media we know that if we invest money in magnets, new patients will come. We love how they're so predictable and measureable."
If you want to hear more about making a profitable connection with your patients and prospects with promo gifts in your Direct Mail, just give us a call toll-free at 1-800-291-2291.
Please reload